Style# IND20PNT
Midweight Fleece Pants
Item# 01776
Midweight Fleece Pants
Item# 01776
Independent Trading IND20PNT
8.5 oz. (US) 14.2 oz. (CA) 80/20 cotton/polyester blend fleece, ring spun cotton with 100% cotton face
Grey Heather: 52/48 cotton/polyester
Elastic waistband with shoestring drawcord
Relaxed fit
1x1 ribbing at ankle cuffs
Sewn eyelets
Sewn fly detail
Back pocket & Jersey lined hand pockets
Tearaway label
Please note: The heather colorways are not made of 100% cotton face yarn. Please do your own testing prior to screen printing. When printing on our Camo Colorways it is important that the garment DOES NOT reach 320 Degrees when flashing or drying. Our Camo Colorways are a Water Based Print on 100% cotton fabric surface. At 320 degrees you risk ink migration to your print. To be really safe some printers use a Poly Blocker base, and low temperature curing inks to stay away from 320 degrees.
The fabric color of this 8.5 oz., 3-end Fleece pants is a close match to our IND4000/ IND400Z 10 oz., 3-end Fleece. If you are using this pant to color match a sweatshirt as a set, please order samples to see how well they match.
Companion Styles
Customers Also Bought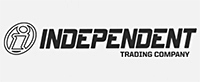 About Independent Trading
Building on our roots in the action sports industry since 1987, Independent Trading Company is established as a leading manufacturer and supplier of high quality Custom & Blank apparel for Screen Printers and Brands all over the world. Our collection of blanks, ranging from Sweatshirts to Performance Fleece, Jackets, and Tees is readily available in over 55 styles with a wide range of colors. All styles are produced in high quality fabrics for supreme results when printing or embellishing.